One of the easiest ways to get your logo in front of your customers, friends, and other acquaintances, is to put it in every email you send. But, before you can do this, you'll need to make a logo (just click that link to get started, then come back once you're finished).
Have you got your logo design? Great.
The following instructions are specifically for creating an email signature in Gmail. You can find instructions for putting a logo in your Apple Mail signature here.  If you need to set up a signature in another program, the steps are similar, but you may want to review the specific instructions for your mail program. The biggest difference is that you may be able to use the actual JPG or PNG file to create your signature. Gmail requires you to use a web link.
Step 1. Locate the Email Signature Tool.
In Gmail, you'll find this in the settings (click the gear icon at the top right side of the page, then select  "Settings" from the menu. In the "General Tab", the Signature form is near the bottom of the page. If you don't already have a Gmail signature set up, the button next to "No Signature" will be selected. 

Step 2. Add Your Contact Information.

Next add the personal information you want to appear in all of your outgoing emails. Most people add information like name, title, website, office and cell phone, email, and physical location if you have one. You'll want to create a hierarchy to make some of the information more noticeable than others. For example, you may choose to make your name larger or bold, or you might make your title Italic and a lighter color, like this:
JOHN DOE
President
P: 888.888.8888
C: 222.222.2222

www.yourbusiness.com
123 Anywhere Street | City, ST 44444 
Step 3. Add Your Logo.
In Gmail, you can't add a static file (like the JPG or PNG you can download from your LogoMaker account). But there are two ways to get your logo into your Gmail signature. The first way is to create a page on your website specifically for your logo. This page should not have any other design or copy elements on it. Just your logo file. You don't need to link to it from any other pages on your site. No one will ever visit this page. All you are doing is creating a page from which Gmail can pull your logo each time you send an email.
Once you have your code, click the Insert Image button (that's the gray box with the mountain icon ). This will bring up an "Add Image" box that allows you to paste in your logo's web address or your free logo HTML code.
Once you see the preview and make sure your logo looks right, hit "OK".
Step 4. Arrange the Elements.
Now you can rearrange the elements in your signature to look the way you want them to. You may want to change the color of the text to match your logo. Once your logo is in place, you can also add a tagline or some other information about your company below the logo. Some business owners add copy about an ongoing sale or specific product they want to promote. (If what you add is time sensitive, like an expiring offer, don't forget to remove it from you signature later.)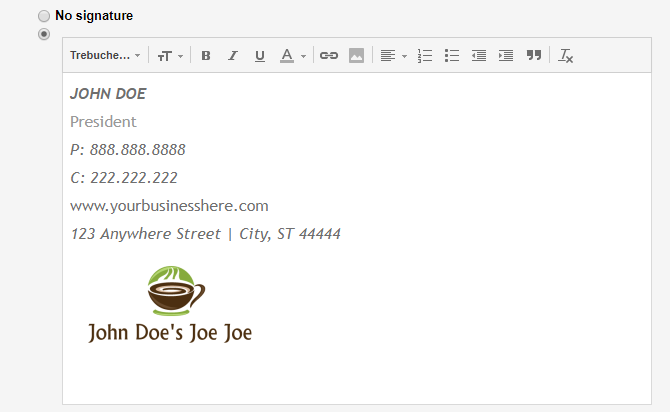 Step 5. Add Links.
The last step allows you to link any of the elements in your email signature to a webpage. To do this, simply select the text element or your logo image, then click the link tool (the button that looks a little like a chain, or perhaps more like spectacles). This will bring up a box where you can add a URL, so you can link your web address directly to your home page. Or you might want to link your logo to an about us page. Or, if you added an offer or description of your product to your email signature, you might link to a purchase page for that offer.
Once you have your signature built the way you want it, send it off to other employees and have them use your signature as a template to create theirs.
Consistency across the board will help your business look and feel more professional and it is a core component of effective branding.