A couple of years ago I came across this (somewhat funny) two-step lesson demonstrating how to draw an owl. I apologize in advance for the crudeness.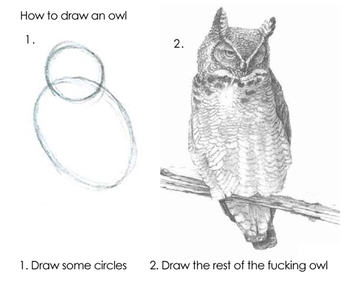 You could do a similar illustration called How To Start A Business:
Step 1: Have an idea.

Step 2: Build a successful business with your idea.
From the original How To Draw an Owl post: "I believe a key reason so many people on the road to mastery call it quits is not because drawing a beautiful owl in pencil is superhumanly hard. It's because they thought it would be easy."
When it comes to starting a business, truer words have yet to be written.
Many would-be small business owners believe it's easy to start a business. How hard can it be? After all, you have a skill. Or a product. Or a service. Or an idea. People pay others for that. Why not you?
So they start, only to learn that step 2 is hard.
Superhumanly hard.
If you think it's going to be easy, you'll call it quits before you get close to succeeding.
Which is why so few people draw owls. Or start businesses.
PS. If you're ready to start a business (or already have) and you're struggling with this, we recommend Michael Gerber's excellent book, The E-Myth Revisited.