Healthcare is one industry that's never going away. As long as there are medical mysteries to solve, health-related businesses will need strong branding that inspires trust.
Yet, striking the perfect balance of authority, warmth, and goodwill in a medical logo is harder than it seems. On one hand, medical environments have a reputation for being stiff and clinical.
On the other hand, you want to create a medical logo design that feels honest and inviting to your audience. Sticking with overused symbols — like the all-too-common caduceus — is one option.
If your goal is to build a distinctive medical brand, it's time to ditch the clichés and come up with a unique idea.
Looking for a fresh concept? Cure your creative block by checking out our top picks for the most inventive medical logos.
8 Professional Medical Logo Examples
1. Mount Sinai Hospital Logo

Mount Sinai Hospital in New York City is rated one of the best health systems in the country for its cohesive network of services. The concept of connection shows clearly in the bright, intersecting lines.
All the moving parts of a health network — from physicians and researchers to therapists and patients — work together to create positive outcomes. At its core, the logo uses Mount Sinai, a sacred mountain range in Egypt, as a symbol of ceaseless effort and advancement.
A vibrant mountain reaching toward the sky easily ties in with the tagline, "Expanding the possibilities of healthcare." From a practical perspective, cyan and magenta are smart color choices.
Not only does this design make good use of the color overlay trend, but it features two primary colors from the CMYK model. The company should have no trouble getting a consistent color across different print media, and the design stands out on everything from brochures to trucks.
2. Rare Genomics Institute Logo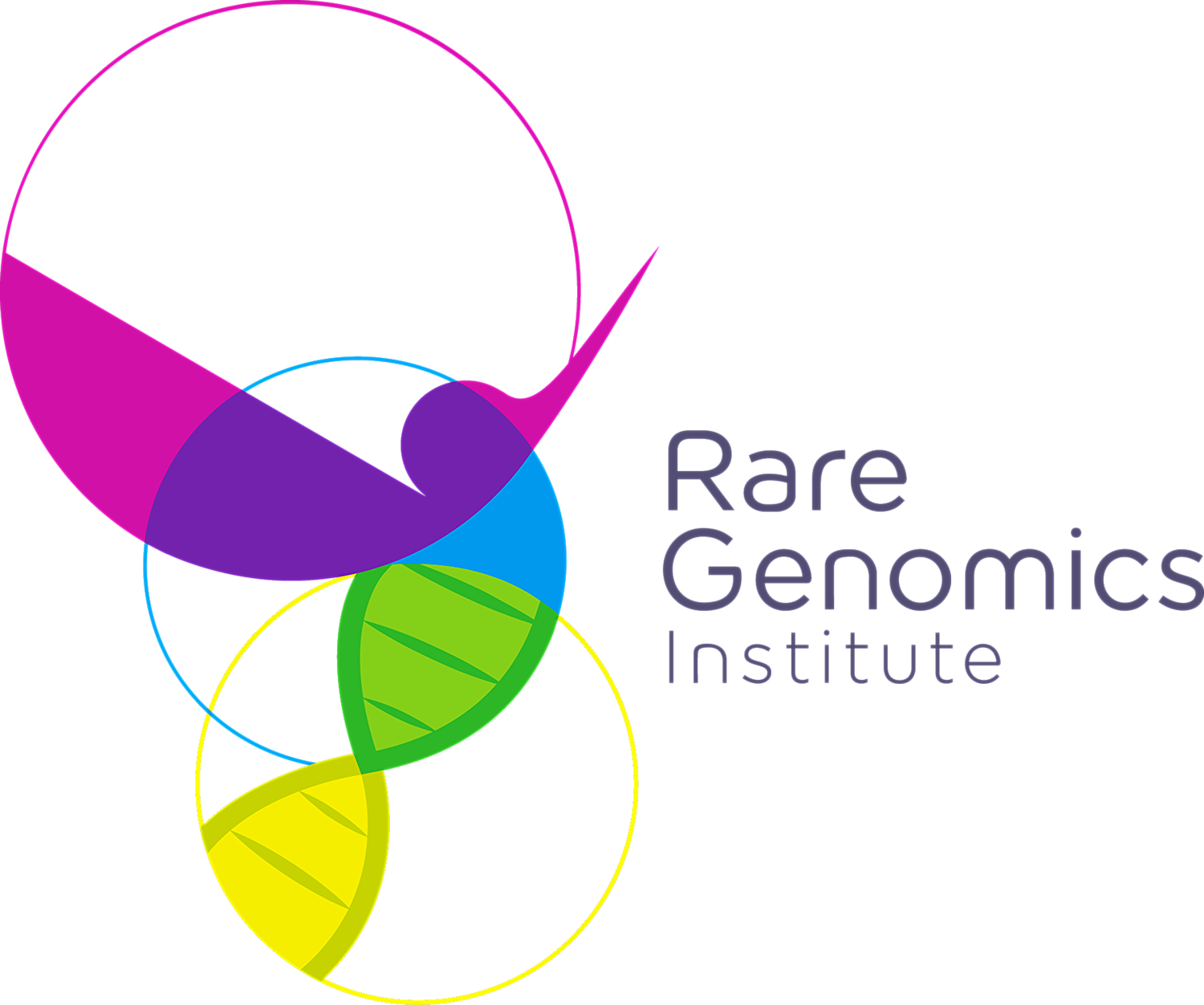 "Eccentric" is probably the most accurate way to describe this bright geometric logo from the Rare Genomics Institute in California. The biotech company uses crowdfunding to provide resources and research support for patients with rare diseases.
A quick look at the design reveals an intersection of nature, science, and technology. A multicolored bird transforms into a double strand of molecules. Circles segment the entire design, embodying the many frames and controlled environments common in scientific labs.
Whether it's a specimen container, a test tube, a slide, or a microscope, these frames of reference provide knowledge that leads to better treatment and cures.
Creative Pediatric Dentistry Logo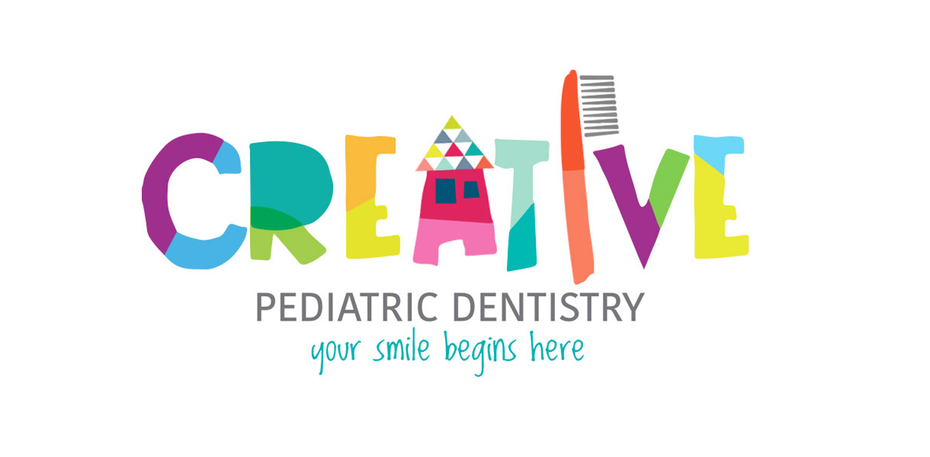 Can you resist smiling when you see this whimsical logo for Creative Pediatric Dentistry in West Virginia? A trip to the dentist isn't the most fun ordeal for young children. Fortunately, the lively signage and uniforms set a cheerful tone from the moment patients walk through the door.
Hand-drawn letters feature irregular shapes that exude joy and light-heartedness. With child-oriented businesses, you're free to break rules and pack in more color.
The CPD logo keeps the vibrant colors in checking by varying warm and cool tones and saturated and soft tones. Some letters even use a monochromatic scheme or color overlay to break up the design, so you're never overwhelmed by one section.
Fred Hutchison Cancer Research Center Logo

A medical logo design can tell a compelling story by reinventing imagery that's common in the field. Fred Hutchison Cancer Research Center in Washington used this approach to make an upbeat logo for a serious medical issue.
Right away, you see the letter "H" in the circle's center. Look more closely, and the logo is an overhead view of cellular activity under a microscope.
Medical research scientists look at microscope slides and petri dishes every day. Both industry experts and average consumers recognize this imagery, so the logo speaks to a broad audience. The blue and green color scheme sends a message of hope and renewal, fitting for a research institute on a mission to find a cure.
Northwestern Medicine Logo

Not all hospital logos have to be bold and flashy. Simplicity is the most attractive aspect of this purple logo for Northwestern Medicine in Illinois.
The clean, readable sans-serif typefaces make sense for a forward-looking health system that prides itself on modern innovation. More importantly, the logomark seamlessly combines the hospital's initials into a clear, recognizable symbol.
You can instantly picture the logomark on forms, social media pages, or hospital walls. Much of the design relies on negative space, which blends right into a clinical setting.
Studer Family Children's Hospital at Sacred Heart Logo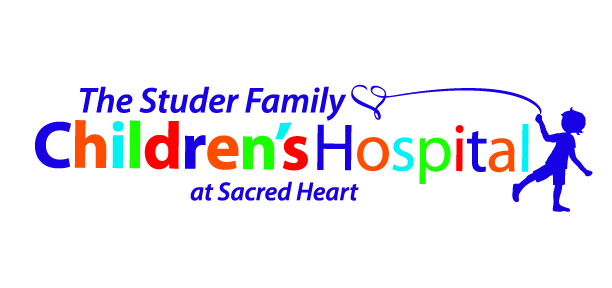 A playful, heartwarming design is usually the right way to go when targeting families. Parents value medical facilities that cater to a child's needs and work hard to foster a positive outlook.
Studer Family Children's Hospital in Florida hit the mark with this colorful image of a child flying a heart-shaped kite. The logo succeeds in three key ways:
The design tells a story through action/motion.

The shape and layout are balanced, despite the long name.

The colors follow a consistent pattern.
The design is simple enough for a DIY project, but it still contains unique elements that distinguish Studer from other hospitals.
Burke Neurological Institute Logo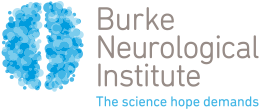 How do you even begin to portray the complex pathways of the brain on a tiny square canvas? Burke Neurological Institute in New York made a triumphant attempt at illustrating the tapestry of the mind.
A myriad of overlapping blue dots forms a brain, capturing the challenge of studying neurological disease. The logo layers solid and transparent shapes to maintain the clarity of the design. You might lose intricate detail at smaller sizes, but the visual effect stays just as powerful.
An all-blue color scheme works as a symbol of expertise and healing while also mirroring the struggles of brain health. The mind is a center of inner peace and intellect in good times and a source of sadness and inner turmoil in bad times.
Middletown Animal Hospital Logo

Middletown Animal Hospital in Ohio celebrates a pet owner's love with this heart-shaped symbol of a cat and dog embracing. People are passionate about their pets, and this adorable design offers reassurance that animals are treated respectfully at MAH.
As they should be, the pets are the focal point here. However, the dog collar includes a small red cross charm to tie in the health aspect of the brand.
While there are some weak points, the animal shapes attractively conform to the heart shape. A cool color scheme of blue, purple, and white signifies trust, purity, calmness, and healing, while the tiny pop of red grabs your attention.
When creating a medical logo design, brainstorm ideas that capture the experience your business delivers. Try to convey the same qualities and ethics you promote in your environment every day.
If you project an accurate image of your business, visitors will know what to expect when they interact with your staff. By creating a cohesive story between your branding and service, you can successfully attract people who value what you offer.
Ready to make a logo for your business? Get started now!