How do you define a fantastic restaurant logo? For the starter course, you go to the best restaurants and see what they have to offer. Of course just because the food is culinary gold doesn't mean the company's logo is superior. So let's play "Top Chef" judge for a while and vote on some of the best restaurants in the US, solely based on the logo for the restaurant.
Along the way, we'll touch base on what makes food industry logos sing, and how you can apply this knowledge to your own food-based logo. This way you'll have the utensils needed to ensure your logo doesn't leave a bad taste in the mouths of consumers.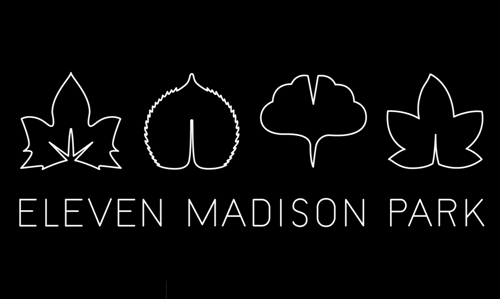 Eleven Madison Park
While this top-rated restaurant in New York City is currently closed for renovations, Eleven Madison Park will reopen in fall 2017—not to worry! You'll get a stab at their 11-course tasting menu soon. Now as for that logo, surely the food isn't the only great thing about this restaurant.
The logo is definitely unique. It features four leaves including a linden, ginko, maple, and London plane—all done in a very simple outline that looks like something from basic symbols used 20 years ago in Word docs. In other words, these four leaves are very unassuming.
However, it's more than just four leaves, printed in white on a black background. These four leaves represent the trees living in Madison Square Park. They bring up the concept of back to nature, which is on par with the agricultural bounty found on the tables at Eleven Madison Park.
The restaurant name is printed in sans serif fonts with thin capitalized letters, all spelled out and squared off beneath the leaves. It's not a fancy restaurant logo, but it is contemporary, which matches the contemporary menu of this NYC hot spot, voted as the best restaurant on the planet for 2017 by Bloomberg.
Top Restaurant Logo rating: 9 out of 10 for simplistic contemporary design that creates a feeling for the food.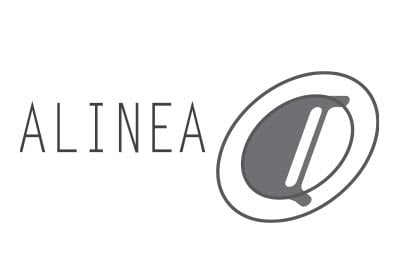 Alinea
As a three-Michelin star restaurant, you expect the best at Alinea. The chef owners Nick Kokonas and Grant Achatz are quick to tell you, though, that Alinea is not a restaurant. It's an unconventional dining experience meant to blow your tastebuds out of the water. Modernist, seasonally driven, emotional…those are the keywords depicting Alinea of Chicago and its 18 to 22 course menu.
But how about that logo? Well, it leaves you wondering. First of all, the word Alinea is in thin, even skinny, capital letters in a white font. Then you have this thing next to the word that looks like an off kilter image of a dinner plate with one circle inside the other. Inside that center circle you have an off-white, nearly gray image. Is it a lowercase 'a'? Possibly, but it's difficult to distinguish. It's all filled in and there's a line of negative space on the right side. This restaurant logo doesn't make sense and the name of the restaurant doesn't feel cohesive with the graphic image.
Top Restaurant Logo rating: 3 out of 10 for lack of imagination and clarity.

Le Bernardin
If you've ever watched "Top Chef," then you know Eric Ripert is a world famous and highly esteemed chef. He makes his appearance most seasons as a guest judge and inspiration. So how does his restaurant logo for Le Bernardin hold up? This three-Michelin-starred NYC fave earned a James Beard Award for Best Restaurant Design in 2012, so you'd expect the logo to surpass expectations.
Ripert is a fish master in the kitchen, and his menu is fresh from the sea. Additionally, he's a French chef and brings his classical training to the table.
Now, how does this relate to the logo? It doesn't, not a bit.
The logo for Le Bernardin is solely the name of the restaurant in title font with uppercase 'L' and 'B' followed by lowercase letters. The type is sans serif, as is the common theme with these highly esteemed restaurants and their logos. It appears to be in a steel blue—almost black—print, and it's set on a white background. At the restaurant itself, the logo is in silver on a black background and is underlined in the same hue.
Top Restaurant Logo rating: 6 out of 10, due to simplicity and plainness.
Finding fabulous restaurant logos
After all of these blasé food industry logos, we went searching. Surely there are restaurants with impressive logos out there, right? Well, after searching, we found a couple that are worth discussing.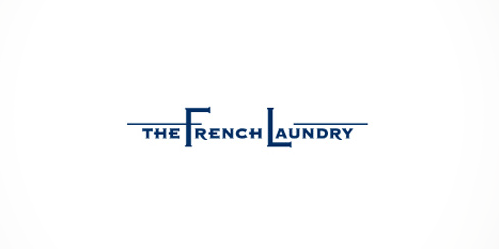 The French Laundry
This is one of several restaurants by the world famous chef Thomas Keller, also seen on "Top Chef." The French Laundry is French, obviously. Keller succeeded in bringing his flair for French cuisine to Napa Valley, California. It's a highly renowned restaurant with its own share of three Michelins and several, several other accolades.
So how about that logo? Here we have something more than just a san serif font on a white background. Finally! The French Laundry logo is a navy, almost black, font on a white background, but the letters are what make it interesting. They are printed in a serif font, and the 'F' and 'L' title caps are extended above and below the rest of the all-caps lettering. Then there is a line that reaches over the first and last parts of the restaurant name, crossing the F, but leaving the L alone. It almost even looks a little like the French countryside, which fits.
Top Restaurant Logo rating: 8 out of 10 for unique use of lettering.
How to design a logo for the restaurant industry
Based on the restaurant logos of the top-rated restaurants in the US, here's what we want you to know:
Keep your lettering very clean and bold.

Avoid using any images, especially of actual food.

Stick with a monochromatic color scheme.
You can assume this implies that the food will speak for itself.
But what if you want to stand out in the crowd? Give your logo a little more attention. Design the name of the restaurant using lettering that goes beyond sentence structure or all-caps design. Include a graphic, but keep it balanced with the simplicity of the logo.
Also, design your logo so it makes sense in representing your cuisine or atmosphere. For modern or contemporary cuisine, the logo should read mod. For traditional cuisine, go with a conventional logo. Finding your perfect restaurant logo is all about pairing the logo with the food.
> Need some ideas? Take a look through some of our logo designs to find the perfect one for your restaurant.