Did you know that Google My Business is the most popular local listing directory on the Internet right now? Millions of businesses are taking advantage of their Google My Business (GMB) page in order to tell online users more about their company – and it's time you did too.
Why is your Google My Business page so important?
If you are a local business, then having a GMB page will help ensure that your company appears in search results whenever users search for your business name. This local listing provides a variety of essential information to your customers, such as:
Business name
Address
Store hours
Phone number
Website
Directions
Reviews
Questions & answers
Popular times
Average price
Social media profiles
Photos
Perhaps you've seen other business's pages appear in local searches. Below is a great example of a GMB page for a local coffee shop in Boston.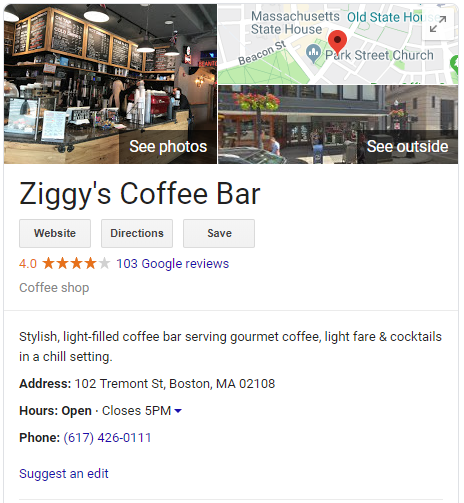 You may be wondering why you would need a GMB page if you already have a company website. The answer is simple: users these days are looking for information quickly and with as little effort as possible. Typing in your domain name or even clicking on your website might be too much of a task for a user that's simply looking for store hours. Having this information displayed front and center right on the search results page is much more useful. Users may often have a difficult time navigating your website to find essential business information, so Google has nicely and neatly displayed it all in one area.
Not only this, GMB also helps you bring new customers to your business. With a majority of searches coming from smartphones today, Google makes use of your device's GPS location to personalize your search results. Since your GMB page lists your store's location accurately on a map, this allows Google to recommend your store to customers looking for recommendations. With just a few minutes of work described below, your coffee shop could be recommended to a customer asking Google to recommend coffee shops near her. This can bring down your customer acquisition costs quite dramatically.
How to claim your Google My Business page
Not sure if you have a Google My Business page for your business? The easiest way to check is to Google your business name and see if your company's information is displayed on the right hand side of the search results list.
If you have not yet claimed your GMB page, you will see a "Manage this listing" link next to the "Suggest an edit" link. Click this, and you will be taken to a page where Google asks you to verify your connection to the business. This verification process prevents random Internet users from claiming your business page. You can either tell Google to call or text your business phone number or tell them to send you a code via email (just make sure you have a business email account, otherwise this method won't work).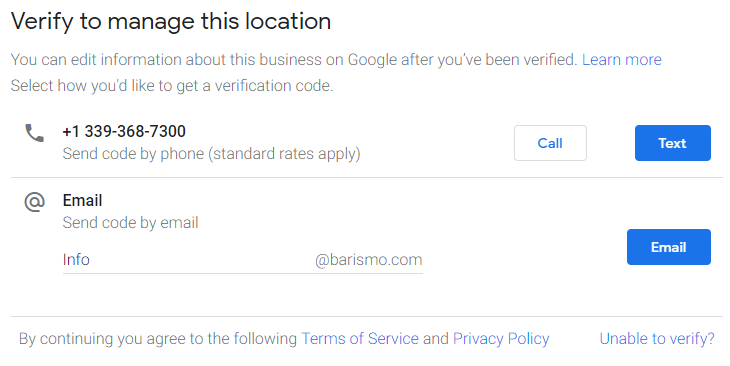 Once you're done, you will now have access to your GMB page. You should be able to immediately start adding your business information and photos as well as begin responding to reviews.
How to edit your Google My Business page
First, sign in to Google My Business by going to business.google.com. You do not necessarily need a Gmail account, but you will need your business email address or any email that you plan on using to manage your new local listing.
Click "Info" from the menu bar and from there you will see multiple sections in which you can edit. Take your time here and make sure you go through each section to ensure that all of your information is up to date.

Always make sure to put accurate store hours. If you operate on a 24/7 basis, you have the ability to set that.
If you have special holiday hours (Christmas, New Years, July 4th, etc), then you can also add those in a separate section.
Keep in mind that you cannot remove information that's from other sources, such as "Reviews from the web" or editorial summaries.

Click "Apply" once you are done with your changes. These changes may take a few days to appear on your GMB page, so be patient. However, most changes will be effective immediately since you are the owner of the page.
How to add a logo and cover photo to Google My Business
Now that you've taken care of updating and adding your essential company information, it's time to add aspects that make your business truly unique: your logo design and cover photo. Photos help customers identify your business and learn more about your products, services, employees, and the atmosphere of your storefront.
First, make sure your logo and cover photo are either JPG or PNG file formats. Image file sizes must be between 10 KB and 5 MB with a minimum resolution of 720 x 720 pixels.
Sign into your Google My Business account if you haven't already, and click Photos from the main menu.
Choose the type of photo you want to upload. You can either change your Logo, Cover photo, or Additional photos.

Your logo will help customers recognize your brand.
A cover photo will showcase your brand's personality.
Additional photos are used to spotlight various features about your business.

Next, upload the photo/s from your computer. If you have a photo in your GMB page that you want to use as your logo or cover photo, simply select one you've already uploaded.
New features added to Google My Business
As of June 2019, Google My Business has released a number of updates and changes to their product. These changes help business owners further customize their GMB profiles by allowing coupon codes, discounts for new followers, vanity URLs, and designating businesses as a "Local Favorite" by providing digital badges of honor.
Perhaps the best part of their updates so far is their changes to how local business' logos are displayed.
Google My Business is also adding new ways to customize profiles to make them more engaging. New options for cover photos were added, and certain companies will have their logo displayed more prominently. If you want to have your logo displayed on the top right-hand side of your profile, you need to have completed adding your core information to your profile. This update will encourage business owners to complete their Google My Business profile, so they have the best-looking profile. – Inc Magazine
Ready to optimize your GMB page but don't have a logo, website, or business email address? At LogoMaker, we can help! Start by creating a logo in minutes using our online logo maker.