You must have heard that people refer to their company/organization as their brand. It's an interchangeable term that people use to talk about their business, products, or startup without getting caught up in listing all those particulars.
However, the thing that creates your brand identity and represents your company is your logo design.
There is a misconception among some people that your brand is your logo design. Well, that's not the case. It's important to know the difference between the two because their interaction influences your business. A brand and a logo have a very close working relationship. You need both to work together to give you a successful professional identity.
When it comes to your brand, there are many things you need to consider in order to create your business's individuality. Branding comprises of many components, and of those major components is your logo. The connection between a brand and a logo is always vital to execute your marketing strategies. Hence, it affects the growth of your business.
Brand and Logo – What's the Difference
A logo is a graphical design that symbolizes your organization.  It may include a name, a symbol, a specified color, or a trademark. The distinctive qualities of a logo make it very important for the branding of any business. It is used as a quick, visual representation of a brand's message and plays an important role in building brand loyalty. 
It takes a lot of effort and thinking to build a logo that can create an emotional connection with the customers. It should be able to evoke some memory or emotion from the customer's point of view depending upon their relationship with your brand.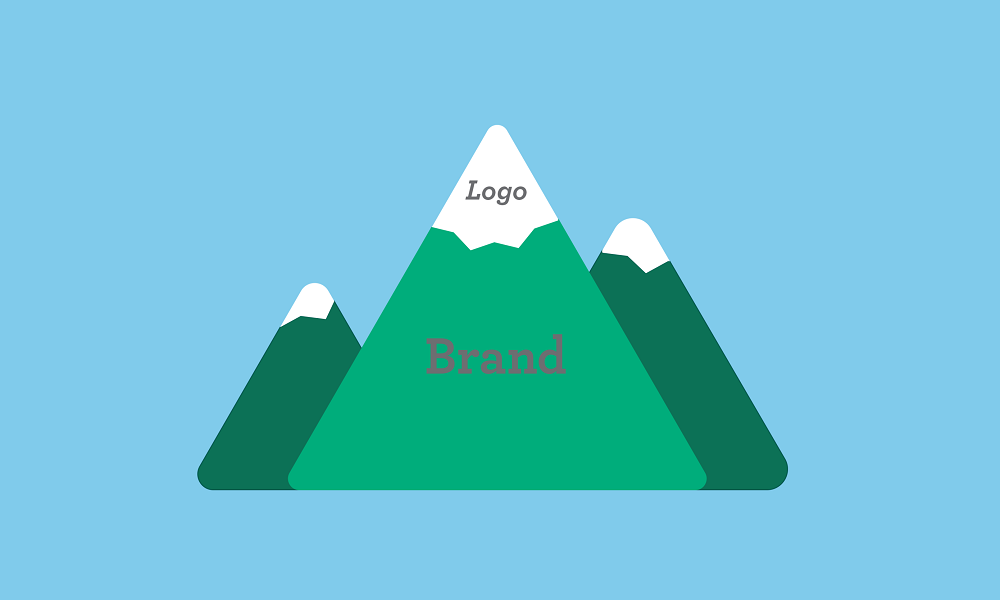 The term brand is wider and harder to define
Looking from the business owner's perspective, the term 'brand' incorporates many components in itself. From marketing and promotions to communications and client persona and the presence of the company- the brand incorporates every interaction, experience, and marketing practice by a company.
The brand is the reputation of a business that results from the efforts and investments by a company. So anything that represents a business comes under the brand umbrella, including your logo design. When you combine the effects of a well-designed logo with your effective brand strategy, you can efficiently reach out to more people. You can communicate with them, share your brand voice and of course, build a connection with your customers. 
An effective brand strategy will definitely have a positive impact on growth. Similarly, a well-designed, visually appealing logo with a message for the customers will definitely attract more attention and create incredible opportunities for the business.
What's the connection between your brand and your logo?
If your logo design comes from your brand, then you need to spend lots of time and effort in developing your brand before you can think about creating your logo design. It is highly recommended that your logo design should come out of your brand values. It should encompass and encapsulate your brand's identity to give your logo a meaning. 
In short, you just don't need any beautiful design with visual illustrations, colors, and text to select as your logo. It will never withstand market demands if you will design in without focusing on your branding strategy.
Moreover, you need to see your competitor's logos, their designs, and choice of colors before you start with your own. You don't want to come up with a more or less similar logo in terms of colors and design, so research is mandatory.
Your logo should be unique; it must reflect the major elements of your brand. Don't fall in the trap of choosing a visually complex design. Keep it as simple as you can. A simplistic design will be easily recognizable and will help you retain your customers.
Most importantly, your logo 
must evoke trust in your brand
. While it may appear like you have saved a good fortune by getting it done cheap over sites like Fiverr, these designers are not trained to work on your logo from a branding perspective. Hire a professional logo designer who can advise you on what your logo should signify to your audience. The brand trust and loyalty earned through this is worth more than the money you save by hiring cheap designers.
You can see how famous brands like Apple, Samsung, Nike, and others have a simple yet super appealing logo design. And, if you get those positive vibes after seeing their logos, it's because these brands have developed a loyal relationship with their customers. A logo reminds customers about the previous experiences they have with a particular brand.
Mistakes to avoid while choosing the right logo design
If you are looking to create a perfect logo design for your business, here are a few factors that you need to consider. The definition of the right logo varies from business to business and market to market, so it's on you to decide what fits perfectly with your brand identity. 
You can also hire professional help who can create the best logo design for your company. There are many online logo design stores that you can rely on to give a visual interpretation to your imagination.
Here are some common mistakes that you need to avoid while choosing the logo design for your organization:
Just because it's trending, it doesn't mean you have to follow too. Your logo design is as personal as naming your pet. It needs the same amount of thoughts, attention to detail, and uniqueness that fits right with all other aspects of your brand. 
So when you are designing a logo, if you will follow the trends, you won't be able to make it unique. Moreover, it won't be able to build an emotional connection with your customers hence affecting your brand loyalty.
Considering the importance of the logo to your brand image, you might not want to take it lightly. As much as it needs a personal touch, your logo design also requires a professional who can bring life to your imagination.
It happens many times that we create a beautiful image of some design in our minds with attention to every detail. However, when you rely on an amateur, we are left with nothing but disappointment when the actual thing comes out. So, go for professional help like Logo Orbit, Logo Design Valley, GraphicSprings, and many others, to get your logo made. 
Don't worry. The money that you will invest in designing your logo will not only help you to build a strong presence in the market but will also help you connect with your customers on an emotional and psychological level.
Things to think about
Your logo is a component of your brand that symbolizes and describes what your company does. It is not only necessary that your logo is instantly recognizable and easily memorable, but it should also stimulate the customer's mind whenever they see it. 
Your logo helps customers to recall their interaction with your brand and bring them back to you. So you need to understand your brand before designing the logo. As your logo is not just another image, but a story you want to tell your customers about your company.
ABOUT Alycia Gordan
Alycia Gordan is a freelance writer who loves to read and write articles on healthcare technology, fitness and lifestyle. She is a tech junkie and divides her time between travel and writing. You can find her on Twitter: @meetalycia