The Logomaker app
Is your logo maker right for me?
Yes! Our logo maker tool is your best option if you don't have any design experience or design software installed on your computer. Our online logo design app makes it easy to choose from thousands of icons created by our professional design team, match your favorite with just the right font, and then tweak the colors and spacing until it's just right. You won't believe how easy and quick the whole process is. The best part is, you can create a logo for free – only purchase the one you love.
How does your logo maker work?
To get started, fill out a simple form about your business including your industry, company name, and a tagline if you have one. Then, click the "Make a Logo" button to launch the online design tool. We'll guide you through the process of selecting a logotype, your font, and finally show you our recommendations based on your industry. Choose a design that you like best, then edit the colors, font, and layout to further customize your logo. You can either save your logo and work on it later, or go ahead and purchase your design. Feel free to design as many as you want for free!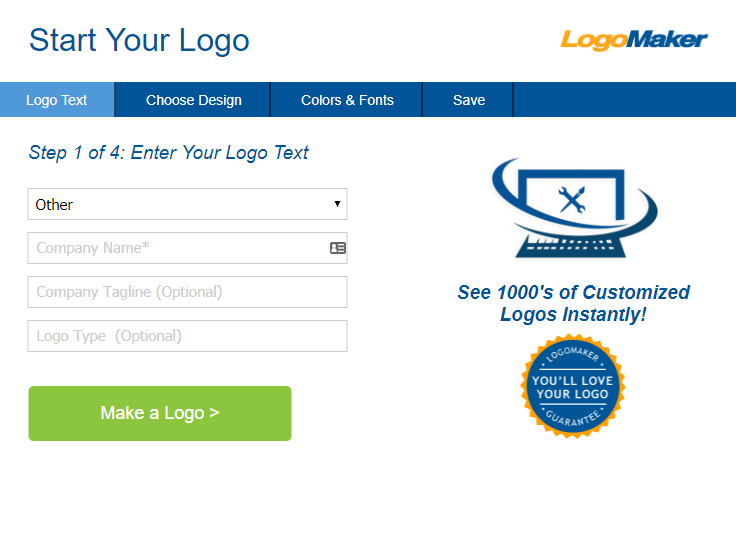 Can I save my designs for later?
Absolutely. Once you create an account, you can design and save as many logos as you want
What kinds of icons can I choose?
LogoMaker includes logo templates with icons, badges, text-only, single initial, and double initial designs. There are thousands of different icons from which you can choose, and each one can be uniquely customized with different colors, layouts, and fonts. We recommend narrowing down your options by searching for designs that best fit your industry. If you're curious as to what we offer, here are just a few sample logo designs from a few of our most popular industries.
What if I don't find any icons I like?
With over 10,000 unique logo icons to choose from, we are confident that you will find a design that you love. However, if you still can't find an icon you love, make sure to check out our logo design inspiration page which should help get your ideas flowing. Keep in mind that you will be able to further customize your logo using our powerful logo editor tool. This includes changing where the icon is in relation to your business name, the color/s of the icon, and the size. Oftentimes these small changes will end up making your logo look unique and professional. However, if you still can't find an icon you love, feel free to reach out to our customer service team at support@logomaker.com and we will be able to further assist you with your design.
How many colors can I choose from?
There are thousands of colors to choose from that you can use to customize both your font and your icon. Your downloadable logo image files will display colors in CMYK format, which makes it easy and inexpensive to print your logo.
How do I get my logo?
You can purchase and download high-resolution files directly from your LogoMaker account. Once you've purchased your logo design, you'll see the file download options on the checkout page. We will also send you a follow-up email immediately after you purchase your logo. The email includes detailed instructions on how to download your logo from your account and to also explain what each image file type is. If you have any questions, please reach out and our amazing Customer Care team will be happy to assist you.
Do I have the rights to my logo?
Once you purchase your logo, you have the right to use it just about any way you wish. For the legal specifics, you should read our terms and conditions.
The "love your logo" guarantee
Do you offer a guarantee?
Yes, we guarantee that you can use LogoMmaker to create a logo that you will love. If you aren't able to get the logo just right, please contact us and we'll do everything we can to help. We really do want you to get the logo you need. If for some reason you are unsatisfied with your logo design, let us know within 30 days and if we can't fix it, we'll refund your money.
How do I contact the LogoMaker support team?
If you are having issues using our logo design tool, unable to log into your account, have pricing questions, or inquiries about your order or product delivery status, please contact us at help@logomaker.com.
What is your refund policy?
If you've had your logo for less than 30 days, then our "love your logo" guarantee™ applies to you, which means you're eligible for a full refund. Outside of the 30-day purchase window, will do everything we can to help you make updates to your existing logo so you can still use it.
What do I do if I don't like my logo?
We've all doubted ourselves before and we want to make sure that you are 100% satisfied with your logo design. If you purchase your logo and there are issues, we will be happy to make small edits. However, to make sure that you are completely covered, we suggest upgrading to our Premium Logo Package (found on checkout) or by reaching out to our Customer Care team. This package gives you unlimited logo edits for 1 year, multiple layouts of your new logo, Facebook, Twitter & LinkedIn logo files, plus access to your logo from any device.
Downloading files
What image files do I get?
PNG Files – These are files that have a transparent background. This means that when you place your logo over a colored background, the colored background will show around your logo. These are best used in situations where you have a colored background such as websites, marketing materials, or promotional products.
JPG Files – Unlike PNG files, these do not have a transparent background and will have a white background surrounding your logo. These are less commonly used than PNGs – only use when placing a logo on a white background.
EPS Files – These are vector files used when working with a professional logo designer or when specifically requested. They are considered the source file of your logo. These are not for everyday use.
In addition we have provided black and white ('BM' files), small ("SmallLogo"), and 400dpi versions of your logo. When using your logo for printed materials, be sure to use the 400dpi versions of your logo. Remember, JPG files will still have a white box around your logo and PNG files will have a transparent background.
Do you provide additional image file types?
When you purchase your new logo, to will receive a PNG, JPG, EPS and black and white image file. We have found that these four file types are sufficient enough to use across the majority of branding and marketing materials, including online marketing. However, if you need an additional logo file, please contact us at help@logomaker.com.
Will I have a transparent file?
If you purchase a logo from our Logo Maker, you will be given a transparent image file. Both the PNG and EPS image file types are transparent, which is ideal for use on your website and social media pages.
Why can't I open my EPS file?
An EPS file is a high-resolution vector file that requires professional design software like Adobe Illustrator to open.
Printing your logo
Which image file is best for printing?
An EPS file (Encapsulated PostScript) is best for use on print materials. This image file type may contain 2D vector graphics, text, and bitmap images and requires a photo editing platform such as Adobe Illustrator to make changes to the file. This image file type has a high resolution, making it ideal for use on printed products that have various textured surfaces. Print materials include business cards, letterhead, banners, lawn signs, and stationery.
Why does the color of my logo look different on paper?
This is rare, but when it happens there is a good reason for it. Your computer monitor displays colors using red, green, and blue dots of light. This color system is called RGB. When you print your logo on paper, your printer generally uses four colors of ink: cyan, magenta, yellow, and black (a color system called CMYK) to create all the colors that you see.
Because these systems use different technologies to display the same colors, occasionally the colors you see displayed on your screen will look slightly different from the colors on a printed page. The vast majority of the time, they look the same.
In addition, your computer monitor settings are unique. Adjusting brightness, contrast, and chroma (a measure of color purity) on your monitor can also alter the way your computer displays colors. Your logo may look different on your computer at work and your computer at home, even though the actual colors in your logo file haven't changed.
As we noted above, this is rare. If it happens, you may want to choose a slightly different color that displays correctly regardless of which system is used to print it. Always double check the colors before you print the first time.
Other questions
DIY Logo or Do-It-For-Me Logo - What's The Difference?
Choosing to use a DIY logo maker as opposed to hiring a logo designer really depends on your needs. If you need something to get your business up and running but don't have the budget to hire a logo designer, then a do-it-yourself logo is your best option. If you need a completely unique logo design, or if you are in an extremely niche industry, then hiring a logo designer may be your best bet. Businesses with a larger marketing budget can generally afford a graphic designer as well. Luckily at Logo Maker, you can either use our DIY logo design tool or you can hire one of our in-house graphic designers.
Why should I use a DIY logo maker?
Our DIY logo maker is a great option for business owners or anyone else who needs a logo. Logo making tools allow users to create a logo quickly, oftentimes within just five minutes. Logo makers are also more affordable than hiring a professional logo designer because they provide pre-designed templates and use AI-powered software to help users customize the design. DIY logo makers produce logo designs that look just as beautiful as the ones designed by a professional, which means you don't have to compromise your brand's image.
What else can I get besides a logo?
Once you've created your logo design, it's easy to put your logo on a website, business cards, pens, banners, and a variety of other promotional products.
Do you store any personal data?
We collect some personal data (such as your name and email) when you set up your account. To protect your security, we don't store any credit card data on our servers. You can read our Privacy Policy here.
I have a question that's not on your FAQ.
If you have a question or concern that we haven't answered here, please don't hesitate to email us at support@logomaker.com. We'll get right back to you.